Looking for the perfect wings to complete your anime-inspired costume? Look no further than Kego Takami Wings! These wings are designed to mimic the iconic red wings worn by the Hawks, the elite team of heroes in the popular anime series "My Hero Academia."
But these wings are more than just a cosplay accessory - they're built to last. The super flexible frame allows for easy movement, while the durable material ensures they can withstand the rigors of cosplay events and conventions.

Not just for cosplayers, Kego Takami Wings are perfect for any occasion where you want to add a touch of whimsy to your outfit. Whether it's Halloween, a costume party, or just a fun photo shoot, these wings will make you feel like you can fly.

And with sizes available for both men and women, as well as a plus size option, everyone can join in on the fun. So why wait? Unleash your inner wing hero and add Kego Takami Wings to your costume collection today!

Holly Molly these got here FAST!! I ordered thinking it would take a month or two (like my other items from Russia). Perfect for my cosplay.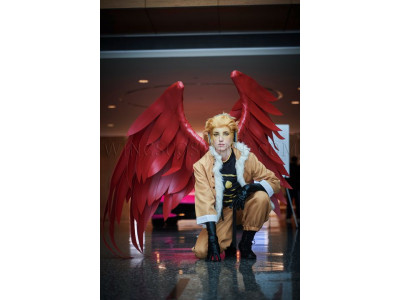 Keigo Takami
Keigo TakamiUp until the day he realized he was the Red Winged Hawk Hero, Keigo Takami was merely a regular high school student.It all bega..
Similar products