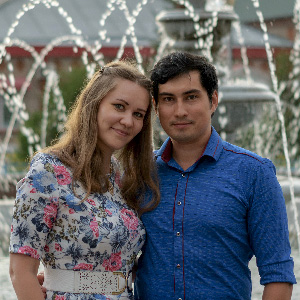 Welcome to Wingscostume.com!
Leniza and Danis Sufiyarov are the founders and handmade craftsmen of Wingscostume.com.
Our team of masters consists of several skilled individuals who design and sell handmade angel wings for cosplay parties, Halloween, and photo shoots. They are dedicated to creating high-quality wings that are perfect for any occasion. We ship our wings all over the world, so no matter where you are, you can enjoy the magic of our beautifully crafted wings.
Wingscostume.com also offers customization options for those who want something truly unique. Whether you want a specific color, style, or size of wings, Wingscostume.com can create the perfect pair just for you.
In addition to our selection of angel wings, we also offer a handmade Bouquet lamp in our online store. This unique accessory is perfect for adding a touch of whimsy to your home decor. At night, it illuminates the room with a soft, warm light, creating a cozy atmosphere.
Now, let's talk about the origins of our angel wings. Like many great ideas, it all started with a problem. Leniza and Danis were huge fans of cosplay and often attended conventions, but they noticed that many of the wings available for purchase were either poorly made or too expensive. They decided to take matters into their own hands and began creating their own high-quality, handmade wings. The response was overwhelming, and they quickly became the go-to source for cosplayers looking for the perfect pair of wings.
Today, Wingscostume.com continues to be a popular destination for cosplayers and costume enthusiasts alike, thanks to our dedication to craftsmanship and customer satisfaction. Whether you're looking for the perfect pair of angel wings for your next cosplay event or just want to add a touch of whimsy to your home, Wingscostume.com has something for everyone. Thank you for visiting and we hope you find something special in our online store.